A Perfect 24 Hours in Sonoma, CA (+ a wine recommendation)
May 22, 2023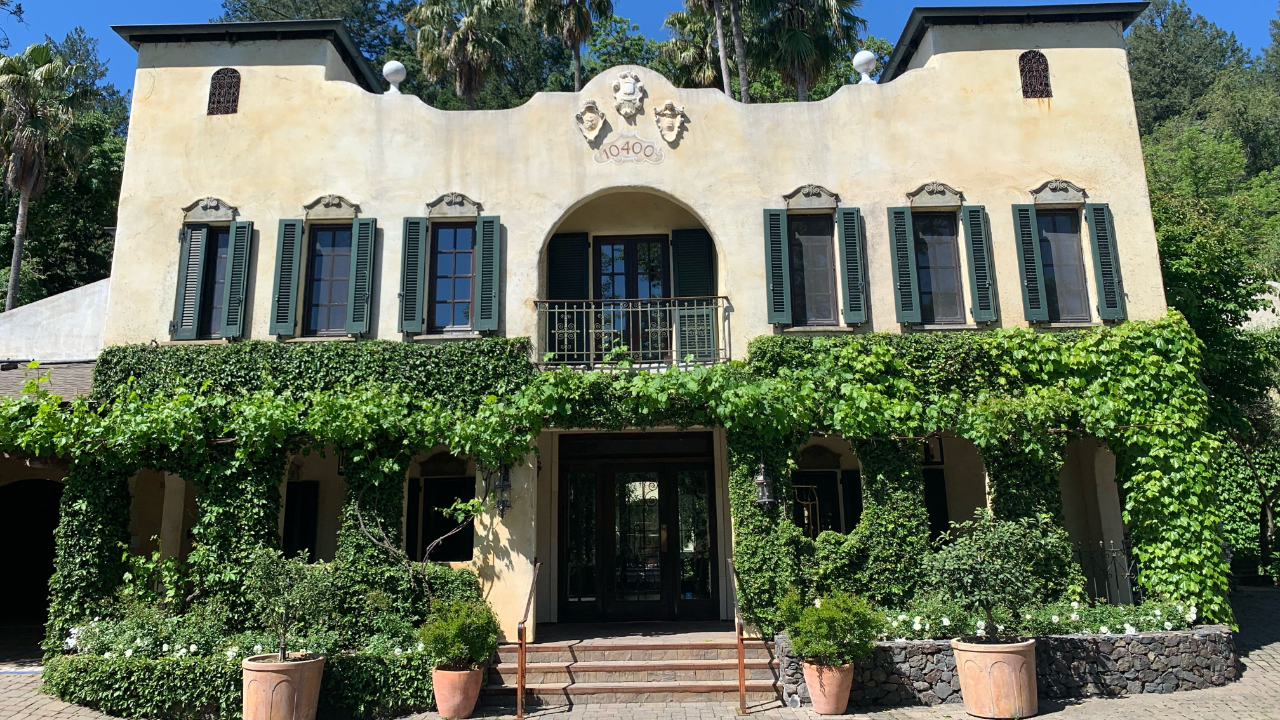 My husband, Brett, and I recently spent our first night away from our daughter ever... in Sonoma, CA 😎. Our baby is 8 months now and we were visiting my husband's family in Sacramento, his parents were so kind to suggest we take a night away…we immediately took them up on it. We tossed around a few ideas but landed on wine country, because, obviously. It was a PERFECT trip and I want to tell you all about it in case you find yourselves planning a trip there.
Sonoma County is BIG, so if you search things to do there, you'll get results that can be pretty far from one another. We ended spending most of our time in the Kenwood / Glen Ellen area. This was about a 2 hour drive from Sacramento.

*****

Day 1
Our first stop was to SugarLoaf Ridge State Park to stretch our legs and kill some time before we could check in a the hotel. It was a GORGEOUS drive in! A narrow two-lane road with huge trees canopying over the edge. We were also able to see some of the burn scar from the terrible fires they had a few years back. I didn't know where exactly the fires were, but it was pretty obvious with the blackened trees. Wild!

I literally googled a "walk" and it took us to the Godspeed Trailhead. We had to travel a little further in to pay for parking at a kiosk, but then we parked right at the trailhead. The trail is posted as 3 miles, but we only did 2 miles or so, because we weren't wearing sunscreen and it opens up to some exposed areas after the first 3/4 of a mile. The beginning of the trail was magical, though. Full of redwoods and creeks and forest. It was a delight.
Only 10 minutes from the park was our hotel… The Kenwood Inn & Spa. YOU GUYS. This was the dream. It looked like Italy on the outside and it just got better once you went in. They greeted us with champagne and fresh baked cookies, and gave us a little tour of the grounds. Everywhere you looked there were lemon trees, olive trees, rose bushes, rosemary, and so much more. It felt ALIVE. We walked past a "warming pool" (re: hot tub), the cocktail hour wine bar (we'll come back to this), the pool area + cabanas, and finally our perfect room, complete with a welcome bottle of bubbly.
We got a deal and decided to go for the Garden King room which is their cheapest offering. I do not feel like I missed out. It was super close to everything, had it's own fireplace, and was just what we needed for our night away. After finishing our champagne, we changed into our swimsuits and headed straight to the warming pool. It was serene. We could see a tiny vineyard from the pool, and a little lemon tree bearing it's perfect fruit. Again, the dream.
Next, was cocktail hour. Apparently they bring in local wineries for free tastings every day from 5-6pm, and then they have a lovely self-serve cheese board to accompany. The cheese was wonderful (I'm looking at you, brie), and the wine, was… fine. I won't go too much into it, but every wine they gave us was oaky and that is just not my style. No matter — it was free and we were in wine country. I drank everything they offered me and did my crosswords while eating that beautiful brie.
With our appetites stoked, we headed for our reservation at the Glen Ellen Star. I was drawn to this place because it was close to the hotel (8 minutes), had rave reviews, and everything was wood-fired. My husband and I make a lot of pizza at home in our little pizza oven, and we love looking for inspiration — so off we went! Everything was delicious! We got beer to change it up a bit, a wood-fired cauliflower dish, and their red-sauce pizza with hot honey. Highly recommend.
*****
Day 2
We slept in (such a gift) and then had a little espresso by the fire in our room. We then went to the breakfast area for some yogurt, fruit, and veggie omelets to-order. All included. All amazing. The Kenwood Inn & Spa did not disappoint.

We then took a final dip in the hot tub before packing up and heading to the only winery on our list for our short trip — Abbot's Passage. I had read about this winery before choosing it, and decided that it was worth a try. They had just started their summer hours which meant that we were the only ones there at 11am. We were seated in the Olive Grove (I KNOW), and then we started the Signature Flight. I didn't know what to expect as far as wines go, but the hostess described them as specializing in Rhones, and I knew it was about to be a very good time for us. And it was.
These wines are my kinds of wines. We drank a rose, a white, and three reds, and I loved them all. I'm usually a red girl, but I truly enjoyed everything they served us. The wines were light, but interesting, and they served them side by side so you can compare and contrast and really form opinions on your favorite. We ordered the seasonal charcuterie and ate everything on that board. Literally everything about this place was perfect to my tastes.
The mercantile inside was exactly my style, the wines, the grounds, the style…. I can't speak highly enough of it. It was perfect to me.

My favorite wine was the Verdant Wild. Firstly, the name is adorable. But it was just a lovely, drinkable red, that was lovely on the nose as well as sip-by-sip. I'm seriously contemplating joining their wine club, I loved this place so much.

So there you have it. I would recommend everything we did, and I would do it all over again. I will definitely be back.
xoxo Sonoma. Love you lots.
Get updated when new things happen!
Join my mailing list and you'll receive my Home Baker's Guide for Perfect Macarons for free!